Holidays are meant to commemorate the ideals that unite us in life, such as our relationships with friends and family. Through cooperation, kindness, and thankfulness, these significant ties can help us unite.
With Christmas right around the corner, it's time to embrace the Spirit!
*cue Mariah Carey's – All I Want For Christmas*
But jokes apart, there are other ways to get into the Christmas spirit too, like spending time with your loved ones or expressing love with gifts. Gifts which are available on many different eCommerce stores. In this blog, we'll be discussing what holiday season Shopify marketing strategies you can use to create golden opportunities to drive more sales.
Creating Opportunities Through Shopify Marketing Strategies
The first step to creating Shopify marketing strategies would be to identify various holidays and events that are being celebrated by your audience. The next holiday in line is Christmas so let's go with that. Whether you use email marketing, social media marketing, or both, to implement your Shopify marketing strategies, just make sure they are all Christmas-themed. Why? Because it will create a sense of celebration, that you as a brand are celebrating festivities with your customers, enticing them into starting their holiday shopping by buying your product.
It's a very commonly used marketing tactic which exploits the psychology of how people function. People are competitive by nature, they want to stand out, they want to be better than others. This is especially true around certain holidays where people compete in gestures of grandiose. So, head-turning discounts paired with Christmas themed content promoted via your social handles and email marketing, you'll see customers lining up to buy your stuff. Use it to your advantage and plan in advance.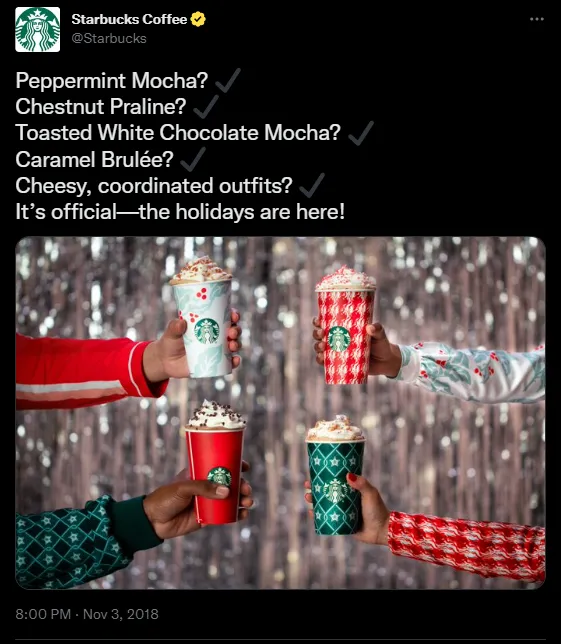 Let's move on to more specific Shopify marketing strategies you can employ to churn more revenue this holiday season. We've gone ahead and prepared a list of 13 shopify marketing strategies you can use yourself or take inspiration from.
Holiday-variant Products
Unless you are a dropshipper or employ a print-on-demand approach, it might be too late for many brands to create fresh seasonal products. Although, some handmade brands are agile enough to develop new goods. For everyone else, businesses can appear to have new products, even if they simply reiterated the usual by making a few minor changes to packaging or variants (such as a renamed festive sock color or holiday label for a pine-scented candle). Let's take the example of brands like Starbucks, which created Christmas themed cups and drinks as an effort to better engage with their audience and drive more sales, and it worked!
People love limited time items. Why? Because it compels the prospects to make a purchase decision which is driven by urgency. This is one of the most widely used Shopify marketing strategies by brand.
Create Holiday Collections
Create fresh collections based on gift-giving themes, categories, or occasions. This will make it simpler for website visitors to shop for the holidays on your website. Collections with titles like "Holiday Party Dresses," "Gifts for Dad," or "Toys for Toddlers" can be created from key products. For a small firm with limited resources, such as time or money, Shopify marketing strategies like these are simple, cost-free, and effective.
Holiday-Themed Creatives
Swap out all standard images and decorations on your store with versions that have a Christmas touch. It will further fuel and bring out the Christmas spirit in your customers, enticing them to purchase more.
Sell Christmas-Themed Gift Cards
Use festivals as an opportunity to sell additional gift cards as not everyone will buy Christmas presents. Allow Christmas buyers to create unique gift cards with their own wording and backdrop graphics. Selling gift cards is another option to get income.
Offer discounts on higher value gift cards to entice repeat business. You may improve the earnings of your online store in this way.
Announcement Bars Usage
Using announcement bars is one of many shopify marketing strategies brands use to keep website visitors informed about the impending sale. These can be programmed to automatically appear and inform holiday buyers of the sale and the discounted items, as well as promoting flash sales and time-limited offers.
Customized Holiday Touch
You will always read about personalisation in articles about internet marketing and shopify marketing strategies. We advise you to go above and beyond just adding a human touch to your digital communications. You would value them going above and above if you were a customer at a Shopify store and they provided gift wrapping at no additional cost. Automate pop-up messages that say, "Spend X and Get Free Gift Wrapping," if you can not do it for every single purchase at no further cost.
Boost Engagement With A Contest
Other Shopify marketing strategies you can use include hosting a contest around the Christmas holiday to increase brand engagement. 
Invite your audience to your store, play different Christmas themed games with them, set a winning prize like eGift cards, gift hampers, or discount coupons. These types of brand activities are effective at generating and enhancing brand loyalty, brand engagement, and brand credibility. Starbucks is a prime example of a brand holding a festive-themed contest to encourage more engagement from their audience in the form of a festive themed contest.
Bundle Offers
Other shopify marketing strategies to get customers to spend more this holiday season is to create bundle offers, offer complementary products with every purchase or with a minimum purchase amount. Simultaneously, you can even showcase your 'top selling products' or 'similar items' at the checkout phase as an attempt to entice, cross sell, and even upsell your audience.
If they are a first time customer, you can give them a discount code to increase the odds of them making a purchase. If you wanna take it a step further, you can offer a loyalty program which is basically a system which rewards customers with points for every purchase they make, helping convert them soon into a repeat customer.
Here are a few examples of special offers you can run for the holiday season:
Highlight your best sellers, and create a special deal
Issue special holiday-themed gift cards
Offer holiday-themed gift wrapping
Offer personalized, handwritten notes
Create holiday gift sets/bundles
Going The Extra Mile
People enjoy being surprised, especially around the holidays. You help distinguish yourself from the rest of the competition when you pleasantly surprise your customer by providing something "extra" (something they did not pay for). Hold on, that does not mean you should sell goods for half the going rate—never! It only takes a tiny action. The presents are listed below:
Gift-wrapping 
Quickly Delivery
Free Delivery
cash back or other reward systems
Complementary Add-ons
Use these existing shopify marketing strategies and tactics or develop original concepts that best work for both you and your audience.
Target Their FOMO
Fear Of Missing Out is a powerful strategy used for increasing purchases and preventing cart abandonment. Online shoppers feel pressured to act quickly because they worry that a product might disappear in the future, which prevents them from having a second thought and leads to a purchase.
Here's how you can use the sense of urgency to your advantage:
Add timers for your sales, discounts, and products that are running low on supply.
If they purchase the item before the deadline, give them reward points.
Show how many goods are still available.
Inform clients by email, SMS, or social media when products are sold out or when a sale is coming to an end, etc.
Although you can use this method on products with a reasonable price tag, it works best when combined with a discount offer. Ensure that you put it into practice this holiday season.
Upselling with Shopify App
People are in a "state of spending" throughout the holiday season since the festival is about celebration, and there can be no celebration without gifts. As a result, brands have the opportunity to upsell and raise the AOV of their e-commerce site. Installing the Shopify upsell app iCart is advised if you want to upsell effectively.
Unrelated but here's how you can increase the average order value at your store:
Utilize cross-selling or clever upselling plugins.
Provide post-purchase upsells, i.e., following checkout
Before customers add an item to their cart, present them with cross-selling options.
Display to them the merchandise related to the initial purchase
Do not pitch them a product they have already purchased.
Making Use of Emotional Hooks
Using emotional hooks as part of your Shopify marketing strategies is one of the best ways to engage your audience. When brands use this strategy, they stand out. Additionally, according to a statement made by Plato, "Human activity flows from three basic sources: desire, knowledge, and emotion." If you can successfully appeal to their emotions, you can quickly increase sales.
In addition, people feel pressured to spend more over the holiday season because of societal pressure to be better than others. All you have to do is tap on this string to increase conversions.
Festive Email Marketing
Emails might just be one of the most effective Shopify marketing strategies as they are a fantastic method for attracting plenty of potential and current clients to your holiday marketing campaigns. Use email marketing to your advantage to increase traffic to your Shopify store. You create the information in your emails to be useful, such as gift guides, contests, and special subscriber-only flash specials. Only individuals on your mailing list can access offers like these, and these offers help you build your list for retargeting.
Wrapping Up
These are just some of the most effective Shopify marketing strategies you can employ to unleash your Holiday spirit and turn your business into a revenue churning machine. We at Trango Tech, the leading Shopify development company, are well versed in the art of creating pristine Shopify marketing strategies as well as Shopify app development. But our services don't end there, we'll assist you if you want to migrate to Shopify. Just get in touch with us and we'll cater all your Shopify related needs.