In 2018, Adobe bought Magento Commerce, an online e-commerce platform, and incorporated it into the Adobe Experience Cloud. The program is now known as Adobe Commerce Cloud. It may be used to create any size e-commerce store. You can also personalize your store's themes, features, and linkages with other applications to aid with e-commerce incentives. 
In addition to a domain name and hosting, there are SEO and marketing add-ons, as well as a range of shop extensions. Magento also includes point-of-sale (POS) vendors, allowing you to sell in-person as well as online. Let us understand Adobe Commerce Pricing with its features and comparisons with other eCommerce platforms.
Who should use Adobe commerce?
Adobe Commerce is positioned as a solution that can assist both B2B and B2C organizations. There are some clear advantages to using Adobe Commerce Cloud for organizations that require a high level of customization or who currently use several Adobe products, such as having a hosted website with several eCommerce capabilities that connect with Adobe Experience Manager.
However, Adobe Commerce Cloud is not suitable for all merchants. Adobe refers to it as an enterprise offering, but Magento commerce is targeted more toward the midmarket and this Magento pricing is more affordable for these users. The expense of the adobe commerce development is required to not only get it up and running but also to maintain it is not worth it for many lower to higher mid market firms. It is best to consult expert companies such as Trango Tech so you have the best software infrastructure.
Note: To build an ecommerce store, certified professionals at Trango Tech are your best bet – affordable pricing and timely project delivery.
What are some factors that Affect Adobe Commerce Pricing?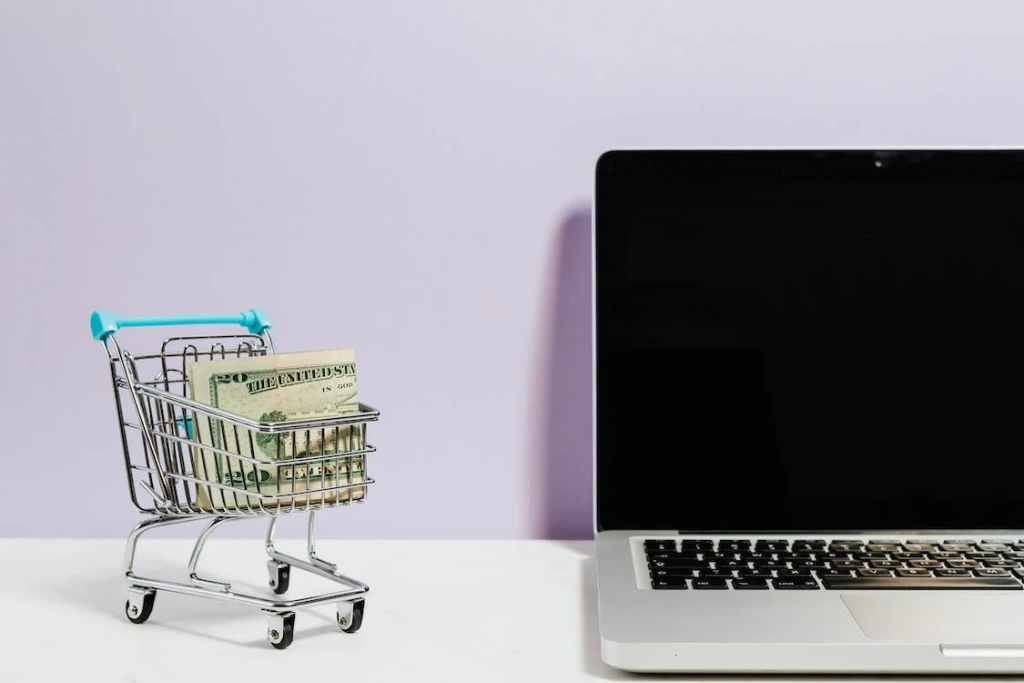 Hosting in Adobe Commerce
Adobe Commerce Cloud, as the name implies, is hosted on the cloud. This implies that Adobe provides hosting as part of the cost of licensing the product. The primary difference between cloud hosting and SaaS is that the merchant is still responsible for upgrades and maintenance.
Keeping up with the security patches and version upgrades required to have the most up-to-date secure version of Magento, is time-consuming and labor-intensive. It is also work that should be done by Magento-certified developers. Adobe Commerce Pricing varies based on hosting requirements as well.
Security in Adobe Commerce
Consider the degree of boost that Magento merchants experienced in the previous year since Adobe Commerce Cloud is built on the Magento platform. In 2019, Magento issued several security fixes as well as three separate version releases (2.3.1 to 2.3.2 to 2.3.3). Merchants that wanted to stay on the most recent version would have had to apply six separate security fixes in 2019 and three more by the end of April 2020. Adobe Commerce Pricing varies based on security requirements amongst others.
Customization in Adobe Commerce
Adobe Commerce Cloud is comparable to the Commerce and Open Source editions. It is also possible to personalize the working environment. It functions on the same basic level as Adobe Commerce or Adobe Open Source. Magento extensions may be created, implemented, and maintained by merchants. Git is used for Adobe Commerce Cloud deployment. Git handles all code management, setup, and deployment for your Adobe Commerce Cloud websites and shops. The majority of the document found in the Cloud version is read-only. This may create problems with any third-party integrations you utilize. This may be used to establish distinct read/write zones on the server, but it can make adobe commerce development more difficult.
You may manage the admin panel alongside your shop to make it simpler to complete daily activities faster. This panel allows you to monitor your store, making it an excellent admin tool. Adobe Commerce Pricing varies based on customization requirements amongst others.
Security for administrators in Adobe Commerce
Adobe Commerce Cloud allows you to assign rights and responsibilities to various administrators so that they may access your online business. As a store owner, you may also log in and examine all admin activity. It introduced the CAPTCHA capability to prevent automated software from attempting to establish bogus logins. You may also generate detailed system reports to help you rapidly identify and resolve technical issues.
Analytics for Adobe Commerce
Data is becoming increasingly crucial, allowing eCommerce shops to better analyze their successes and failures and make business decisions based on solid data. Choosing an eCommerce platform that includes data analytics capabilities may be a crucial consideration for your company. Adobe Commerce Pricing varies based on analytics requirements amongst others.
OmniChannels for Adobe Commerce
Your store should be located near where your clients shop. Is it available on Amazon or other marketplaces? What about social media? Internationally? On the go? With a smart omnichannel approach, your site can reach your consumers or potential customers wherever they purchase. You will handle the heavy lifting, however, the platform provides essential capabilities and order management for hosting your product catalog across several channels for an omnichannel experience. This platform requires the installation of extensions because it doesn't have native functionality, which may cause problems. The Amazon add-on does not have the finest reviews.
 There was a Google Shopping interface, which was decommissioned in April 2020. Furthermore, Adobe Commerce lacks native social connectors. The documentation provided here just points to the code for creating a button. Adobe Commerce Pricing varies based on omnichannel requirements amongst others since the connection between the stores affects the prices.
Flexibility in Adobe Commerce
When it comes to building an ecommerce store, flexibility may imply a variety of things. We're talking about: Is it flexible enough to adapt to your company's needs while also scaling as it grows?
You may highly modify Adobe Commerce because it is built on open-source Magento technology. If you require the most flexibility, having access to the source code may be advantageous. However, these adjustments will incur significant development expenses (see the section on costs above). Furthermore, the more you change the source code, the more difficult it will be for your engineers to handle. This, incidentally, is what drives up those expenses.  Essentially, total flexibility is very useful but it comes with some major limitations depending on how much you would like to invest just in your technology stack. Adobe Commerce Pricing varies based on flexibility options amongst others.
Headless offerings in Adobe Commerce
As eCommerce has developed over the previous two decades, so have consumers' expectations of an eCommerce site. They desire an exciting digital experience with a simple checkout process.
In eCommerce, standing out means having a site that makes it easy to provide the user experience that will attract and convert your audience. One method is to employ headless commerce, which allows you to use a frontend CMS, DXP, PWA, or other solution that excels in your needs and then link it to your eCommerce platform on the backend using APIs.
One of Adobe Commerce's most intriguing features is its seamless connection with Adobe Experience Manager. Adobe Commerce might be a suitable choice if that's your chosen front-end for developing your shopping experience. Adobe Commerce also supports progressive web applications (PWAs). Beyond that, it is up to you, the merchant, to develop your extension or analyze third-party options. Adobe Commerce Pricing varies based on headless solution requirements amongst others.
What are the Adobe Commerce Pricing Options?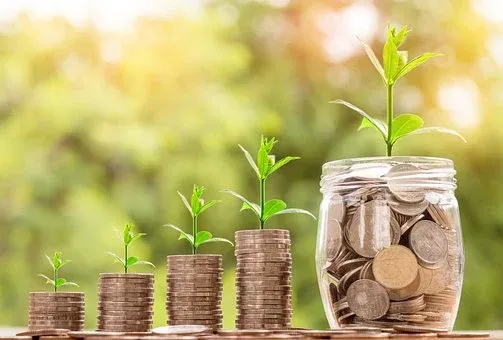 Adobe Commerce pricing includes three different Magento pricing options. These are Open source, Commerce, and Commerce Cloud. 
Magento (Adobe Commerce) Open Source
Magento community edition (Adobe Commerce) Open Source is available for free download and installation on your server. However, you will need to manually set up your website. You must manage your own Web Hosting, Domain, Security Certificates, and any Add-Ons/Extensions. If you lack the technical abilities necessary to configure and modify your website, you may consider hiring a Technical Developer to accomplish it for you. The overall cost of using Magento community edition (Adobe Commerce) Open Source might range between $10,000 and $60,000.
You can add a variety of products for your customers with Magento community edition (Adobe Commerce) Open Source, as well as integrated Checkout, access to Mobile Optimized Email Templates, Payment, and Payment Shipping, and access to Google Universal Analytics which is best used for customer analysis, and extended capabilities through the App Marketplace.
Magento
Commerce
(Adobe Commerce) 
Magento enterprise edition (Adobe Commerce) Commerce is primarily designed for large businesses. Magento enterprise edition (Adobe Commerce) Commerce offers you access to additional capabilities for improved security and speed. Similar to Magento (Adobe Commerce) Open Source, you must pay for hosting in Magento (Adobe Commerce) Commerce. If you run a huge eCommerce Store and are always seeking new methods to grow it, obtaining Magento enterprise edition (Adobe Commerce) Commerce is the smartest thing you can do for your organization. Magento pricing for Adobe Commerce begins at $22,000 per year and is based on your annual gross sales revenue. There are five distinct price ranges to choose from.
Individuals can create customized experiences for their customers to build brand loyalty with Magento (Adobe Commerce) Commerce. They can produce Data-Driven Marketing Decisions including in-depth Customer Analytics capabilities. People extensively use inbuilt drag-and-drop Content Management Systems (CMS) because they support easy customization. You can get access to its exceptional 24/7 Technical Support.
Magento
Commerce
(Adobe Commerce) Cloud
Magento enterprise edition (Adobe Commerce) Commerce Cloud, as the name implies, backs up all of your information to the cloud. Magento enterprise edition (Adobe Commerce) Commerce Cloud, like Magento (Adobe Commerce) Commerce, is ideally suited for large organizations with high revenue and sales. Unlike Magento community edition (Adobe Commerce) Open Source and ECommerce, Magento Commerce Cloud provides hosting services as well. As a result, you do not need to pay for Web Hosting individually. It is based on an AWS Cloud Server and is simple to set up. Utilize integrated CDN and performance monitoring tools such as New Relic and Blackfire.io to increase the functionality of your site while also saving expenses. Adobe commerce pricing is dependent on the yearly gross total revenue and starts at $40,000/year.
Magento (Adobe Commerce) Commerce Cloud has all of the capabilities of Magento community edition (Adobe Commerce) Open Source and Commerce. In addition, it also has real-time Performance Monitoring,  integrated Web Hosting services, security, automated Infrastructure Updates, and outstanding 24/7 Magento(Adobe Commerce) Support.
Comparing Adobe Commerce Pricing to Other e-Commerce Platforms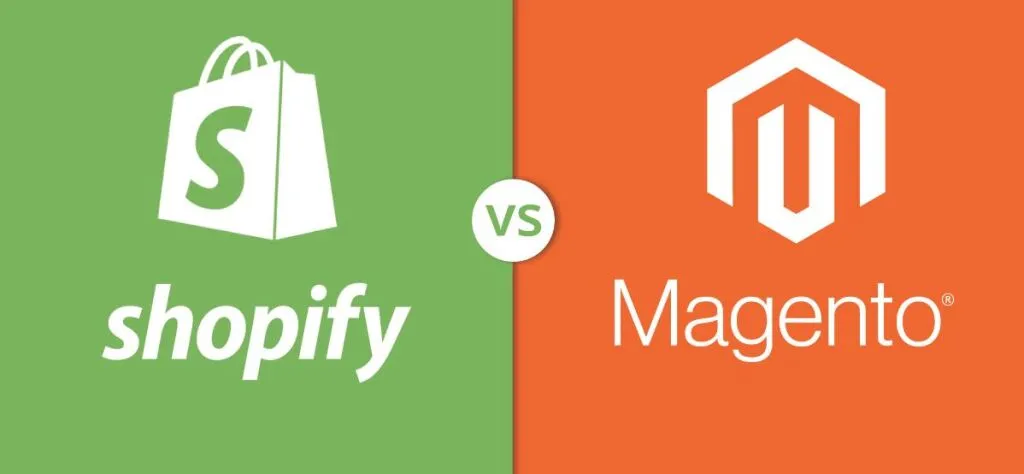 Pricing
When we talk about pricing, there are significant changes between the two systems. Basic Shopify allows customers to set up their website, access numerous sales channels, designate inventory locations, and offer an infinite number of items for $29 per month. There's no need to pay designers or IT professionals to set up an e-commerce store.
Adobe Commerce users, on the other hand, must contact the firm directly to obtain a price. Prices for adobe starts at $1,800, according to Capterra. It has a drag-and-drop website builder, AI-driven product suggestions, simple inventory management, and extensive reporting capabilities.
Shopify charges a fixed 2% processing fee for third-party payment systems, as for Magento you must contact them directly for further details. Both systems feature app markets, which include the Shopify App Store and Adobe Commerce Marketplace.
Design
Shopify offers eight free templates as well as premium themes ranging in price from $150 to $350. Each design has theme options, allowing users to edit their site, add banners, and change the color without needing to know HTML or CSS.
Magento (Adobe Commerce) prefers to provide users with complete freedom and customization using a drag-and-drop builder and document editors. Users may also create personalized experiences to interact with certain audiences using the integrated customer segmentation capabilities. Furthermore, their product suggestion function may provide purchase recommendations based on consumer behavior and product attributes.
Sales
Shopify's POS software is robust, including unified analytics, inventory tracking, and staff management tools. Merchants may build streamlined omnichannel operations and fulfill orders via local pickup, and local delivery, and purchase online, pick up in-store (BOPIS), or roadside deliveries. Sellers on the platform can also obtain a POS kit which includes a receipt printer, card reader, and barcode scanner at a reduced fee.
Unlike Shopify, Magento provides Payment systems via extensions. It includes integrated B2B capability because it serves large corporations and organizations. Customers may use this platform to manage their corporate accounts, define different levels of buyers, track quotations, and manage their credit.
Reporting
Acquiring insight into your business is critical for success, but it may be difficult without the correct solutions. Fortunately, both Shopify and Magento offer reporting and analytics tools to assist you in making sound business decisions. Shopify provides daily sales reports that jam-pack data-backed insights on sales, product, and employee performance. Cash flow reports, retail sales findings, inventory reports, and accounting records are also available.
 If you want to get the most out of your data, Magento (Adobe Commerce) provides tremendous insights. The platform features eye-catching visuals, dependable report tools, and data-rich dashboards.
Adobe Commerce vs Salesforce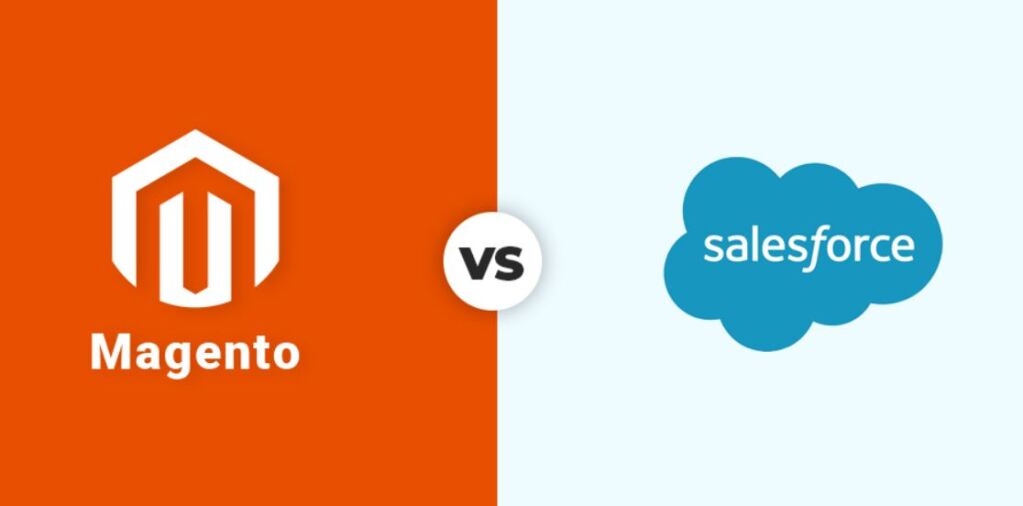 Adobe Commerce Pricing
Its cost varies based on which of the three versions you select. Magento Open Source is free, but Adobe Commerce and Adobe Commerce Cloud begin at $22,000 and $40,000, respectively. Your company's Annual Gross Revenue (AGR) will determine the ultimate cost. You may always contact Adobe and they will supply you with the latest Pricing quotes.
Furthermore, all Adobe Commerce Pricing plans to provide new clients with a customizable payment mechanism. It enables customers to pay for the platform every month for the first year. Nevertheless, this is only the expense of the platform. If you decide to utilize Adobe Commerce, the Adobe Commerce Pricing will also consider the price of development, hosting, design, quality assurance, and other related services. Hiring a Magento development service with extensive platform understanding will help you save money on development in the long term. The entire Adobe Commerce Pricing for commerce plan gives you access to multiple extra features, like a sophisticated Page Builder, B2B capabilities, and more.
The freedom and variety you gain in maintaining and developing your website is possibly the most beneficial benefit of making a one-time payment. You may also start with Magento Open Source and select Magento pricing then later migrate to Adobe Commerce or Adobe Commerce when you want B2B or other premium capabilities and pay the Adobe Commerce pricing as per plan.
Salesforce Commerce Pricing
Sales Commerce is the more expensive of the two platforms, and assessing its cost is a bit complicated. Salesforce Commerce's price strategy is based on Gross Merchandise Value, and eCommerce enterprises pay about 2 to 3 percent of the GMV. Estimating the predicted cost of utilizing the service becomes challenging when using this method, and Salesforce ownership charges may occasionally surprise us.
Budgeting is difficult since costs fluctuate and climb in tandem with your company's growth.
Salesforce Commerce business model
Salesforce originally built it for B2C services, but now it supports both Salesforce B2B and B2C Commerce models. They purchased Demandware and CloudCraze, expanding its platform with B2B capabilities.
Establishing a seamless B2B and B2C experience on a Salesforce Commerce Cloud website is more difficult than you may imagine due to a lack of accessible solutions. If you want Salesforce Commerce Cloud to operate B2B2C, you must either purchase a second license, change their present one, or construct two separate websites. For managing B2B and B2C transactions, you will have two separate servers and admin interfaces. And incorporating these new features will almost certainly cost you extra money and effort to make your website function.
Salesforce Commerce Cloud's B2B features include:
Catalogs customized to order

Prices are negotiable.

Lists for easy ordering

Submission of Quotations

Variety of payment options

Separate retail areas

Scheduling
Adobe
Commerce
business models
It is the industry standard. Because Adobe Commerce has B2B functionality right out of the box. Businesses from B2C, B2B, and D2C are all available through Adobe Commerce Cloud. Furthermore, a single transaction contains everything you need to grow your business. They offer multiple Adobe Commerce pricing plans for different tiers. Adobe Commerce B2B features include the following:
Statistics of the company

Bids

Catalogs that can be shared

Orders processed quickly

Lists of requisitions

Orders for Purchase
You may also alter them to meet your specific needs and include new ones.
If you run in the B2B or B2C sector, both platforms are a suitable choice based only on their characteristics. However, because Adobe Commerce Cloud is an all-in-one solution, it is best suited if you work across all models at the same time.
Adobe Commerce Extensibility and Functionality
Since Magento is an open-source platform that gives store owners and developers more freedom and flexibility. This functionality enables you to scale up quickly in response to rising consumer demand.
Thousands more extensions are also available from Adobe and third-party suppliers. You may simply add new features and integrations without having to spend hundreds of hours on bespoke development. You can also continue to develop your solutions and reuse them across numerous projects.
If your company needs creative solutions, Adobe Commerce is an excellent choice.
Salesforce Commerce Extensibility and Functionality
Salesforce Commerce Cloud provides far less customization and flexibility than Magento. Because the site is SaaS, users can only make so many modifications. As a result, possibilities to upgrade and provide new services are limited. It is tough to add new features, tweak existing ones, and switch platforms to meet the needs of your business.
In comparison to Adobe Commerce, Salesforce Commerce Cloud offers far fewer extensions. Though the most important interfaces, such as payment gateways and marketing integrations, are accessible. It is better suited for firms that do not require extensive customization and whose needs can be met with basic features.
Salesforce Commerce Hosting
Salesforce Commerce Cloud includes hosting. Acquiring, configuring, or administering a hosting service is not something you need to worry about. Salesforce will be in charge of the upkeep and maintenance of your infrastructure.
Adobe Commerce Hosting
Adobe Commerce Cloud, like Salesforce, is hosted, with the company managing all elements of hosting on your behalf. Magento pricing plans for hosting provide a variety of extras, including auto-scaling to withstand traffic spikes during peak eCommerce periods and PCI certification for safe transactions.
Adobe Commerce allows you to choose your preferred hosting service. In general, Adobe allows you more freedom to manage your business as you see fit.
You may use the same web hosting if you start with Magento Open Source and select magento pricing plans and subsequently migrate to Adobe Commerce.
Adobe Commerce Business Intelligence
The Adobe Sensei Artificial Intelligence engine underpins Adobe Business Intelligence. The system collects data from a range of sources— CRM systems, social media, sales records, and so on—into a single place and then displays the information in a variety of pre-designed report forms. You will receive a thorough summary of your company's activity.
Other features include:
AI-powered product recommendations

Your consumers will get recommendations based on their behaviors, such as browsing history, purchase histories, and product preferences.

Adobe Commerce BI is a separate add-on with its own cost. However, the features make it entirely worthwhile.
Salesforce Business Intelligence
Einstein, the company's own artificial intelligence technology, powers Salesforce Commerce Cloud. It comes included with the platform services at no extra charge. Its distinguishing characteristics are as follows:
Product suggestions based on customer behavior analytics

Shoppers' actions trigger automated search and category tailoring.

Both Salesforce Commerce Cloud and Adobe Commerce incorporate artificial intelligence (AI) and other sophisticated features, making it simpler for eCommerce firms to optimize operations, improve the customer experience, automate jobs, and generate revenue.
What are some tips for Negotiating the cost of building an Adobe Commerce Store?
When one wants to build/create an ecommerce store with Adobe. They must learn some negotiation tips to negotiate for a better cost for the development.
Get a consultation from industry experts for the pricing. Take their range for the estimate and try to quote this estimate in the negotiation. This will help in

Adobe Commerce pricing

negotiation as you will seem more prepared.

Make sure you know what you want so that you can choose the

Adobe Commerce pricing

plans accordingly.

To get a good cost for the

Adobe Commerce pricing

, you can explain that you expand to grow using Adobe later on to get some leverage.

Adobe Commerce pricing

can decrease when Adobe runs any promotional offers or provides a discount.

You can opt for a company to manage your site by using third-party plugins and applications. This will reduce the original

Adobe Commerce pricing

as you will use fewer features.
Conclusion
The combination of Magento platform and Adobe Experience Manager might be a fantastic fit for the right business. For the Adobe Commerce Pricing plans, it is best to consult Adobe Commerce Development experts to help you make the right decision. You can consult companies such as Trango Tech so that you do not face problems later on such as inadequate infrastructure, costing problems, and other complex setbacks. PWA Studio can transform an Adobe Commerce shop into a PWA. Magento PWA has several advantages. They are suitable for any device and operating system and can work even when the internet is unavailable or slow. Furthermore, rather than designing individual apps for various operating systems, you might create a PWA and save a lot of money.