It is estimated that by 2040, 95 percent of all buying will be facilitated through ecommerce. Thus, all businesses must create an online store version in the coming years. Not only will it help them cater to the changing needs of consumers, but they'll also be able to supply a wider audience from all over the world. However, to do that, they will need to select a development platform for ecommerce stores that is easy to learn, within their budget, easy to update and maintain, and with the features that best suit their interests. When you search online, you'll often find Shopify Vs. Magento Vs. WooCommerce Vs. BigCommerce Vs. OpenCart. 
Though all of these ecommerce websites are well-known, in this blog, we will discuss two of the foremost ones in the industry, Shopify and Magento.
Shopify
Shopify is an all-in-one, cloud-based ecommerce platform that allows users to build their own online store and run it. It was started in 2006 by Tobias Lutke, Scott Lake, and Daniel Weinand. When it first started, it was meant for snowboarding equipment sellers who wanted an online store but then became an ecommerce platform that catered to big and small businesses and from a broad list of industries. They have over 800,000 merchants spanning 175 countries. Since it is an all-in-one solution for ecommerce businesses, it allows you to create a website, then use its facilities in order to ship, manage and sell products. 
Ease Of Use
Shopify acts as both a hosting platform and SaaS for online stores. So, since it understands the needs of business website owners, it provides everything, such as SSL certificate and hosting. Shopify is a great solution for beginners as it lets you easily locate useful features and apply them easily. Via the admin panel, you can process orders, and store products and data.
Some of the main features of Shopify are:
SEO and digital marketing

Abandoned cart recovery

Several available payment gateways

Unlimited add-ons for sellers to use

Option to sell on selling channels such as Amazon, Pinterest and Facebook
Its pros are:
You don't need coding skills to create a website

The admin area is user friendly

You  can contact customer support 24/7 through live chat, email or phone

You can connect your site to other platforms' marketplaces
Its cons are:
You do get charged a transaction free for each sale

Out of over 100 themes, you can only avail ten of them for free

On default, you only get three product attributes

.
Magento
A development of Varien Inc., it was one of the earlier platforms that was made available to use as early as March of 2008. Ebay, Permira later bought it and now it's in owned by Adobe Inc. Magento has been an ecommerce website provider for several years, and has over 250,000 merchants all over the world that use it for their online business needs.
Magento, now known as Adobe Commerce, is an ecommerce platform that is open source. It came out in 2015 and with that update, it kept focus on become more modern so that businesses could grow more easily. 
Ease Of Use
So, Magento, uses PHP coding language and utilizes several frameworks such as Symfony and Laminas. Thus, user-friendliness is significantly less for those who don't know how to code. But, if you know the basics of coding, you'll surely find that it has tons of amazing features that can be used to create a high quality website. This makes it an amazing eCommerce platform for businesses of all sizes, as you can choose to add 10 to 10,000 products as per your requirements and without a hassle. Essentially, Magento allows you to grow your ecommerce business without you having to shift it to other platforms. 
Some of the main features of Magento are:
Coupons and inventory management

Built-in SEO

Reminder through email marketing

Site management

Responsive layout through HTML5 for tablets and mobiles
Its pros are:
Unlimited customization options as you get to choose how to create your online store

You can find Magento extensions for 1500+ products

You have the option to segment customers based on their shopping cart, wishlist and purchase history

It has quite a sizeable community of users, and they're all willing to help you, so you can easily find the answer to any question you may have

It is highly scalable, meaning you can grow your ecommerce store without any hassle or limitations
It's cons are:
Though it is free source, it doesn't offer website hosting, which you'll need another service for

You do need to know a bit of coding to navigate through the platform 

You can't find premade themes and either have to use ones made by third-parts devs or make it yourself
 Market Shares
Here is a graph showing the market share of Shopify Vs. Magento Vs. WooCommerce Vs. BigCommerce Vs. OpenCart.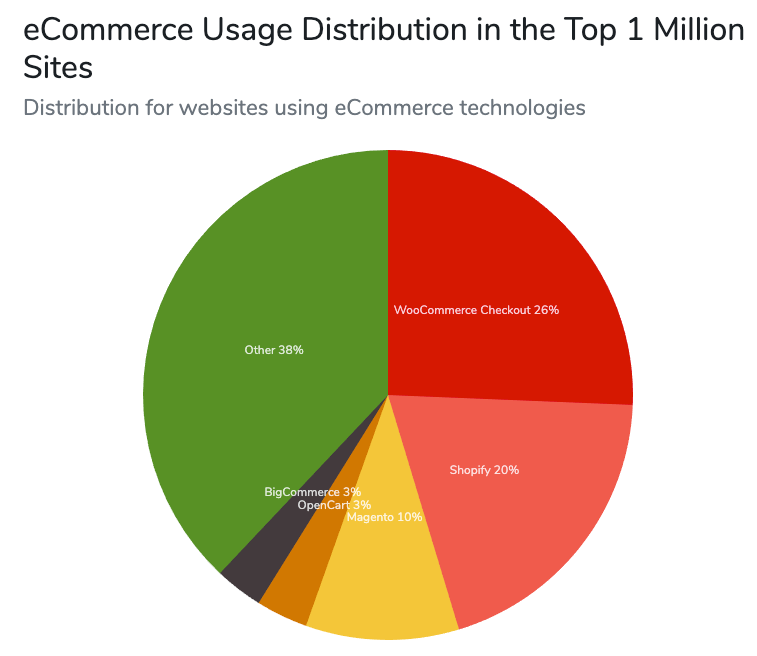 Since we will be focusing on Shopify vs Magento market share, it's interesting to note that Shopify is second and has a market share of 20 percent, whereas Magento's share dropped from 13 percent in 2018 all the way down to 8 percent in 2022. This is mostly because it is seen as a more complex ecommerce website and simpler platforms are now easily available. 
Comparison: Magento Vs Shopify
If you don't know whether you should use Magento or Shopify, it's understandable. After all, both of these are extremely popular, well-established platforms that have proven to help online businesses grow. Magento has a free install option, and is an open-source ecommerce platform. The Shopify builder is very user friendly, but you need to pay monthly fees. So, as we have briefly explored, both options have pros and cons worth noting, however, that doesn't mean there is a clear winner. Depending on your business goals and needs, one may be a better fit for you from the other. So, it's important to dissect the important points of comparison, such as bang for buck, customer support, sales tools, community, etc. Let's compare the advantages of Shopify vs Magento. 
Features
When it comes to Shopify vs Magento in terms of basic virtual store functionality, both of them offer fairly powerful basic features that are easy to use and keep maintaining regularly. Magento is a bit more difficult to set up in comparison to Shopify. Moreover, both Shopify and Magento offer basic features such as product pages, collections, checkout modules and shopping carts. As previously iterated, Magento has more advanced and intermediate features that have been built into its system. Shopify often makes it so that one needs an app to extend its functionality. If you're looking for a Shopify Vs. Magento comparison, here's a way to see whether Shopify or Magento's features are better:
Inventory Management
Shopify offers different plans that allow you to keep an unlimited number of products in your virtual store. Magento enables you to sell unlimited numbers of products if you create them. So, you can easily create collections and products through both platforms, but Shopify does have an edge in this regard as it also allows for direct integration with drop shipping inventory applications such as Oberlo. Another reason is because while you can add unlimited products to your inventory within Magento, your website loading speed and host (or server) performance may be significantly impacted if you're adding an excessive number of products. With Shopify, you don't need to worry about this as it is fully managed and a hosted solution. 
Shipping Charges Calculation
Both Magento and Shopify provide powerful and flexible shipping charges calculation options- which is an integral aspect of selling tangible goods through an ecommerce website. But, Shopify allows for integration with drop shipping tools that provide shipping estimates that are more accurate, meaning customers will feel more at ease. If you would like more information regarding building a Shopify storefront for your business, you can consult experts like Trango Tech.
Discount Code And Coupons Provision
If you select Shopify's Lite plan, you won't find the discount code and coupon option. But, it does offer it for all its other plans. Magento has the upper hand in this regard, as it allows you to create calculation functionalities and discount codes right from the get-go. 
Payment Gateway
When it comes to Adobe Magento vs Shopify in the options for payment gateways, Shopify does take the lead here as it offers support for more than 70 gateways. Magento on the other hand is at a disadvantage because it doesn't come close to that number. However, you have the option of adding more gateways to your Magento store through third-party applications and add-ons. This is a good thing, that Shopify lacks, as Shopify doesn't let you choose and makes you dependent on the built-in gateways, which don't have a transaction fee. If you'd like a third-party payment gateway, you will have to pay a fee. 
Templates And Themes
Both Magento and Shopify offer a sizeable collection of templates and themes so that your virtual store matches the look of your brand and products. Shopify doesn't offer many free themes, whereas Magento Open Source has a wide variety of them. However, it is evident that the free themes you can get through Shopify do seem to be more modern in comparison to those Magento Open Source offers. But, if you look at the premium (paid) themes, Shopify's cheapest theme is for $80, whereas Magento's starts at $1. If you would like a developer to create a custom theme for you, you can always contact experts such as Trango Tech. 
Moreover, by keeping the requirement of a responsive site design in mind, both Magento Open Source and Shopify offer quite a decent amount of responsive templates, both paid and free. 
Add-Ons And Applications
Over a hundred add-ons and applications are offered for Shopify. These applications provide assistance to further expand and enhance the online store's functionality in several different ways. The App Store for Shopify is growing constantly, and you can find an app for everything, such as email marketing, accounting and loyalty programs. Moreover, since Shopify ensures that its application store is moderated keenly, it's highly unlikely that you'll install an app that will damage your website. 
Magento is better in this regard as it offers over 5000 add-ons and apps. This is because it has a large, community driven, open-source nature. You can find both paid and free apps on the Magento app store. But you will be able to find free apps that work just as good as the premium apps, so it shouldn't be an issue. 
Multi-lingual capabilities
Magento is a clear winner in this regard as it has built-in support for different languages. Shopify doesn't directly offer complete multi-lingual capabilities. You will need to get a paid or third-party application to create a completely multi-lingual store on Shopify. Also, you do have the option to code your theme by yourself to enable multilingual capabilities, but for that you will need Shopify experts to help you. Trango Tech has a complete team of Shopify expert who can help you create the perfect online store. 
Blogging Functionality
You can add the blogging functionality by integrating it within your Shopify storefront. However, with Magento, if you know how to code or have a software developer who can assist you, your blog on will be a lot more customizable compared to Shopify.
Customization Capabilities
When comparing Shopify and Magento, you'll find that both platforms provide powerful customization capabilities through advanced interfaces. That also enables you to edit raw CSS/HTML code directly so you have complete control over your store's design. But, Shopify offers a menu-driven, simple way for you to alter basic store attributes such as colors, fonts etc., making it better in this regard. Magento allows you to have a free-hand when it comes to customization, as it's driven by open source code, meaning it's easy to modify. Although, the downside is that only those with a good grip on HTML/CSS coding and web programming can take advantage of this. 
Moreover, with Shopify's theme editor, you can easily experiment with your theme's look-and-feel and also hide sections if you need to. This allows you to keep working on updates before release without having duplicated work or themes. Also, you can use the drag and drop options provided by Shopify which is helpful if you want to better organize your website's content. Of course, it isn't as advanced or robust as a real drag-and-drop builder, but at least the design interface is a lot easier than Magento in this regard. 
Pricing / Development Pricing Cost
The difference you'll find between Shopify and Magento is that the former is hosted, whereas the latter is self-hosted. Thus, Shopify's hosting costs are all covered within the monthly plan you choose, and you don't need to put in extra money or effort. Magento, though free to install, will need investment from you to purchase a domain, extensions, security and web hosting. You can choose from three basic plans by Shopify, with each having a fixed monthly rate, so you know what to expect. Magento's overall cost, on the other hand, will be dependent on several different factors. For Magento, you'll have to pay to get web hosting, which you can from SiteGround, as it supports Magento. SiteGround offers three plans for hosting. 
Shopify's Basic Plan
Shopify's Basic plan is for $29 per month. Shopify plan is for $79 per month, and advanced Shopify is for $299 per month. Magento, if you choose SiteGround for web hosting, has the Startup plan which is for $9.95 per month. Grow Big which is $19.95 per month, and the GoGeek plan which is $29.95 per month.
In a comparison between Shopify Plus vs Magento Enterprise, you'll find that the former has monthly plans starting from $2000, whereas the latter has monthly packages starting from $22,000.
Basic Magento Plans
Now, coming back to the basic Magento plans, you'll have to pay for a domain, which generally comes out to about $10 to $15 annually. You will need to visit a domain registrar like Domain.com to register for a new domain. Magento themes and extensions can be extremely expensive, costing thousands each. It does depend on the web dev agency you contact for the job, but it's true that you won't know the actual cost of your store and it can vary massively. So, you can expect to spend a couple of thousand dollars every month to keep your online store on Magento running. Do keep in mind, however, that Magento is generally used by large businesses who have a big budget and want their sites to grow fast. Trango Tech can help develop affordable yet beautiful themes and helpful extensions within the budget you have.
It's hard to say which is better when it comes to pricing, because both offer very dissimilar pricing models. This is because of the vast integral differences within their platforms. Shopify offer three plans with fixed prices that may seem cheap but in reality, you will need to account for the themes and apps that you'll pay for. Magento on the other hand is open-source, meaning that costs will vary depending on what you require.
Support
The support options of a platform are integral as the better they are, the sooner you'll be able to fix any issues that arise, and then sell to your customers accordingly. Both Magento and Shopify offer customer support. Shopify offers the following support:
Social media

Phone (24/7)

Community forum

Live chat (24/7)

Advanced specialists

Video tutorials

Help center
Magento is widely considered a community-based platform where users pitch in their knowledge and create excellent users guides so that people get a better idea of how the process of building an online store works. These guides have step by step instructions and has information from other developers that may be quite useful for you. 
Adobe commerce website Magento doesn't offer dedicated support, however, SiteGround has a support and help team which is quite superb. So, taking that into account, SiteGround gets full marks as they offer, along with the Magento community, a lot of knowledge and help. So overall, Magento takes the lead in this regard. Since professional website developers use it, the caliber of the user guides happens to be extremely high. Add SiteGround support team in the mix and you have a clear winner. Though, it isn't to say Shopify's support team isn't good, they just don't offer the level of know-how that Magento/SiteGround support offers. 
Community
Magento Forum is a large user-based community where you can find guidance and answers for pretty much everything. The Magento Community Issue, is a free to use version, making it best for small, homebased merchants or businesses who can add different kind of functionalities and then download relevant extensions to strengthen their storefront. Shopify Community has approximately 800,000 members, a million posts, and has answers to pretty much anything Shopify-related. It is known to be the most active and largest online community. It also has a search function so you can find what you are looking for. You can ask for feedback, discuss Shopify themes and apps or just have generic conversations regarding ecommerce marketing. Shopify partners, app developers, agencies and store owners can all join the forum. Moreover, you can find it available in 8 languages, including Italian, Spanish, German, Japanese, Dutch and French.
Which Platform Is Best For eCommerce Website: Magento 2 Vs Shopify
The problem with determining which is better: Shopify Vs. Magento is that each option is good depending, but you need to choose the one that best fits your requirements. So, it is a matter of determining what you need and which platform can better cater to those needs. Let's explore this in more detail:
Business Scale
Both Shopify and Magento are popular and feature-rich platforms that can support small, medium, and large businesses. According to a 2020 survey by Website Builder Expert, Shopify is the most popular ecommerce platform among small businesses, with 36.9% of small ecommerce businesses using it. Magento was used by 8.4% of small businesses.
However, Magento is more geared towards larger businesses and is used by 1.8% of the top 1 million ecommerce sites, while Shopify is used by 1.4% of the top 1 million ecommerce sites (source: Builtwith).
Ultimately, it is important to carefully consider the specific needs and goals of your business and choose the platform that best meets those needs. It may also be helpful to test out both platforms with a small pilot project before making a final decision.
Budget
When it comes to budget, if you're a huge business with an unlimited budget, then Magento enterprise is a good investment. Otherwise, if you have a very limited budget, you should go for Shopify. Moreover, if you have a budget in which you can't go all out but also want a good level of customization, consider professional a Shopify development services offered by companies ecommerce store developer such as Trango Tech who can better guide you on how to get the perfect store within your allocated budget. 
Products
If you have coding knowledge, then Magento is a good option to showcase products as it has unlimited collections and products you can add as per your customizations. For Shopify, you'll need the specific plan and on top of that, need extra apps and add-ons to create the level of products you want. But, if you want a hassle-free experience, then Shopify is a better choice. 
FAQs
Is Magento better than Shopify?
Though both platforms provide distinctive online store experiences, there's a vast difference in nearly all areas, even target audiences. Magento is an excellent choice for enterprise-level businesses Shopify targets SMBs and people who are looking for user-friendliness over functionality. Thus, each platform is good in its own right. 
Is Shopify best for ecommerce websites?
Shopify is easily one of the best websites for ecommerce businesses of all sizes. There are several reasons for this, such as:
81 online store design templates

Its backend editor makes for an easy but efficient way to add products

The inventory system is very comprehensive

The monthly costs aren't significant, and not much coding knowledge is needed to create a store
In the long run, which ecommerce platform is cost-effective?
Overall, Shopify is more cost-effective even though you need to pay. You are charged monthly transaction fees. The extensions, web development and themes cost is fully covered within your investment. However, you can create a simple store through Magento for the same cost. But you will need to spend a lot more money to create a custom design or add extra features. 
Magento Vs Shopify: Which one is more SEO friendly?
Magento has several SEO guides and also features that allow you to optimize your store from the get-go. You can customize URLS, edit alt tags for images etc. This will help make it easier for search engines to find your website. On the other hand, Shopify's SEO efforts all depends on third-party apps. Though you can edit image and title tags, for most of the optimization, you'll require the assistance of apps. So, it's safe to say that Magento 2 is more SEO-friendly.
Which one has the best payment processor options?
Shopify offers fewer payment processor options, imposing transactions fees if you use other options apart from Shopify Payments. In comparison, Magento has better options as there are no extra transaction fees. And you can choose which gateway options to choose.
Does Magento require coding?
Magento does require a bit of coding, however, that is situational. For example, if you don't know how to code, you can create a basic ecommerce store on Magento. However, to optimize your store, add extensions and customize, coding will be required. 
Is Shopify good for beginners with small business?
Shopify, overall, is the best online store builder for beginners establishing a small business and not having coding knowledge. This is because it has all the features needed to successfully launch, run and then manage an ecommerce business. 
Conclusion
Both Shopify and Adobe commerce (Magento) are world-famous ecommerce platforms through which several online stores have made their mark. They're excellent options, and if you follow this guide and know your requirements. For expert guidance regarding eCommerce web development services, consult Trango Tech.