People want convenience. With the ever-changing future, it's now a race to see who can give you the best benefits with the least amount of effort made. Every industry is slowly adapting to this new "mindset", and the eCommerce industry is no different. Users are now shifting from shopify stores to apps and if you're a business owner who's yet to invest in an app, you're missing out! Hurry up and get in touch with a Shopify App Development Company to help you transform your Shopify store to app.
A report by Statista showed that mobile eCommerce accounts for a staggering 72% market share of all eCommerce sales in 2021 alone. Still not convinced to turn shopify store into mobile app? Keep on reading.
What's In It For Me? (Why you need an App)
It would be difficult to jot down all the benefits you're gonna get by shifting from a Shopify store to app. We've gone ahead and listed below some of the benefits we think will help make it or break it. Starting of with:
Enhanced Shopping Experience
It's all about experience. Mobile phones have a very ergonomic design in general. The screen and all the buttons are literally a finger's reach away. So it makes sense for mobile apps to be ergonomic as well. When you move from a store on Shopify to app, users will be able to easily navigate through your store, with minimal distractions and hindrances, unlike on a website.
Increased Brand Loyalty & Customer Retention
A better user and customer experience directly translates to and instills a sense of brand loyalty and increased customer retention. Since apps can be tailored for a more personalized experience, shifting from Shopify store to app will help differentiate you from your competitors, and in turn, help generate a higher customer lifetime value.
Sales Channel
Another benefit of moving from Shopify store to app is, an app is a complete sales channel in and of itself. How well or bad it performs is all on you, it's not influenced by Google or Facebook. You can reach out, target, convert, and retarget customers while gathering and implementing the feedback you receive from them, all from within the app.
Other benefits of moving from a Shopify store to app include;
Higher AOV (Average Order Value)
Higher Conversion Rates
More products viewed per session
These are just a few of the dozen more benefits you get from moving from a Shopify website to app. 
Why People Prefer Apps > Store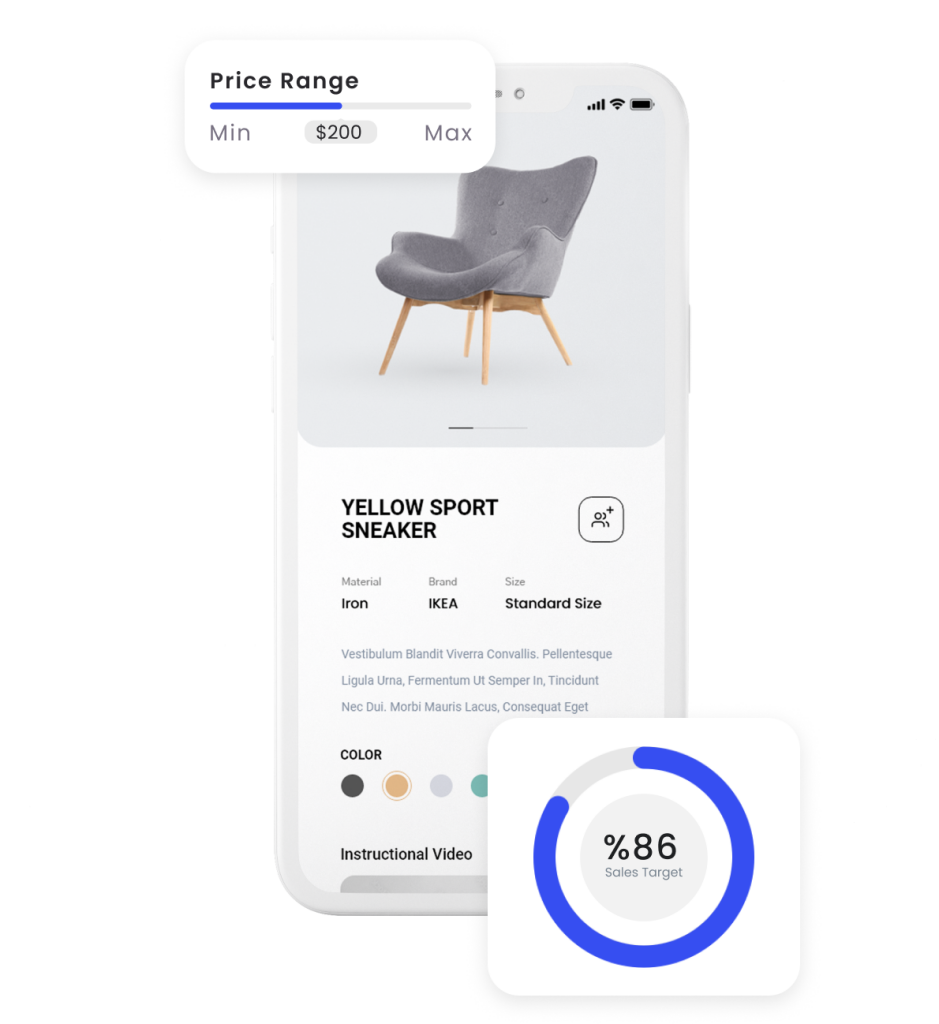 The first reason why people convert shopify to apps is convenience. With mobile phones now an integral part of our daily lives, it's natural to want to do everything from them. This includes online shopping as well. Users can now browse through entire product catalogs from anywhere, at any time, whether in the train, at work, lying in bed, or sitting on the toilet. 
The second reason why people prefer apps is the checkout experience. The checkout process on mobiles is generally faster as opposed to laptops or desktops. Users can even avoid the entire hassle of re-entering their information each time they're making a purchase with phones which saves the information, helping streamline the entire process.
A lot of merchants and business owners offer special and exclusive discounts to mobile shoppers, alluring users towards apps and incentivizing business owners to move their store on Shopify to an app. 
How To Shift From Shopify Store To App
Now that you have surface-level knowledge of what are the benefits of moving from a Shopify store to app and why people prefer using apps over websites, just follow these 5 simple steps and you too can learn how to upgrade your store on Shopify to app.
Step 1: Choose The Right Shopify Builder For You
The first step is all about choosing the "right" Shopify app development company. Assess and identify what your needs are, list them down, and juxtapose which professional Shopify app builder can best turn your Shopify website to an app. Sure, you can do it yourself, but wouldn't you rather let the professionals handle it, who actually know what they're doing, and understand the platform inside and out. Professionals like Trango Tech! We'll help convert your Shopify store to a mobile app.
Step 2: Set Up & Optimize Your Shopify Account
Once you've assessed your requirements and chosen a professional app development company,  they'll transform your existing store on Shopify to app. But don't stop there, go above and beyond by adding these game-changing features onto your Shopify app. 
A frictionless checkout experience
Social media channel integration
Multiple payment gateways
Push notifications
Multi-language support
In-app analytical tools and performance metrics
Dynamic and responsive UI design
Scalable features
And more!
These features will help enhance and maintain a stunning user experience and customer journey in your store, helping you stand out among the bleak and menial. These features will also make your journey from a Shopify store to app worth it.
Step 3: Sync Your Store to App
Now your app needs to be configured. Choosing a Certified Shopify Partner, like Trango Tech, will help ensure that all your store data and information, like inventory and pricing, is migrated and synced when moving from a Shopify store to app.
Step 4: The Only Limit Is Your Imagination (App Customization)
Now the only remaining step before moving your store on Shopify to app and launching it is the layout. Preview and review the layout, make sure it aligns with your brand style guide to maintain consistency. That being said, experiment, explore, iterate, and reiterate. See what works best for you and your customers when moving your store on Shopify to an app. Use all that is new and trending to make sure your customers know you're up-to-date and care about them.
Step 5: T-minus 3,2,1…Launch
And voila! You just learned how to move your Shopify store to a mobile app in 5 simple steps. Now that your store is locked, loaded, and ready for launch, all that is left is to target the behemoth-sized user base of over 6 billion smartphone users.
Conclusion
We at Trango Tech are the leading Shopify Development Company, offering stellar Shopify app development services designed to enable success and exponential growth for your brand.