Food delivery apps are getting more and more popular owing to the ease and convenience they offer. The top food delivery apps remain at the top since they are successfully able to streamline the delivery experience for customers. Most importantly, these applications also offer restaurant owners chances to increase the volume of orders. Apps assist online ordering and delivery and hence, the growth and success of eateries. Online food delivery apps let guests access restaurant menus and then place hassle-free orders on their preferred devices. According to a survey, customers tend to place 6 out of 10 digital orders on their mobile applications. Thus, a business in the food industry is bound to reach out to an exemplary food delivery app development company for greater reach.
Key Features of the Best Food Delivery Applications
Online food delivery apps have skyrocketed in popularity and the most significant reason was they provided customers with convenience. Convenience is key in the modern world. These apps for food delivery provide features that make the customers ordering cycle easier. Here are key features that will most likely be present in all top food delivery apps.
1. Discount, Cashback, and Loyalty Programs
Special offers and coupons are prime marketing strategies that can help attract new users to food delivery applications. These programs promote the conversion of new customers to grow the base of users on the app. The applications also ensure brand loyalty as it is important to retain existing customers as well. They can do so by providing reward points. For instance, a real-life case study is when Starbucks introduced its loyalty program, it saw an 80 percent increase in sales.
2. On-Demand Application Push Notifications
The exponential growth of online food delivery apps means that there will most likely be multiple food delivery apps on the phone of a user. To gain visibility and stand out, sending push notifications can help greatly. This also allows the app to remain ahead of its rivals. Accordingly, it also assists applications and businesses keep in touch with their customers. These push notifications on apps for food delivery can send multiple messages such as discount coupons, special offers, information, and even a location-based drop message for placed orders among so many other things.
3. Display the Contact Information of the Delivery Person
This is a core feature since the person who places an order needs to be aware and have details of the food delivery person for obvious reasons. The customers can track their orders easily, stay informed of the progress, and even contact the delivery person if needed.
4. Effortless Online Payment Methods
Effortless online payment is a must for online food delivery applications. This is an essential part of convenience from the perspective of the user. Payment processing is generally the last step in the order placement process, but even then customers tend to scrap orders if they face any minor or significant issues. The best food delivery apps ensure that payment processing is streamlined to ensure order placement completion. Additionally, customers expect flexibility. This is achieved by providing the customers with multiple payment options such as cash on delivery, debit card, credit cards, or other forms of token payments. A food delivery app must provide an array of payment processors to enable the customers to make the transactions at their convenience.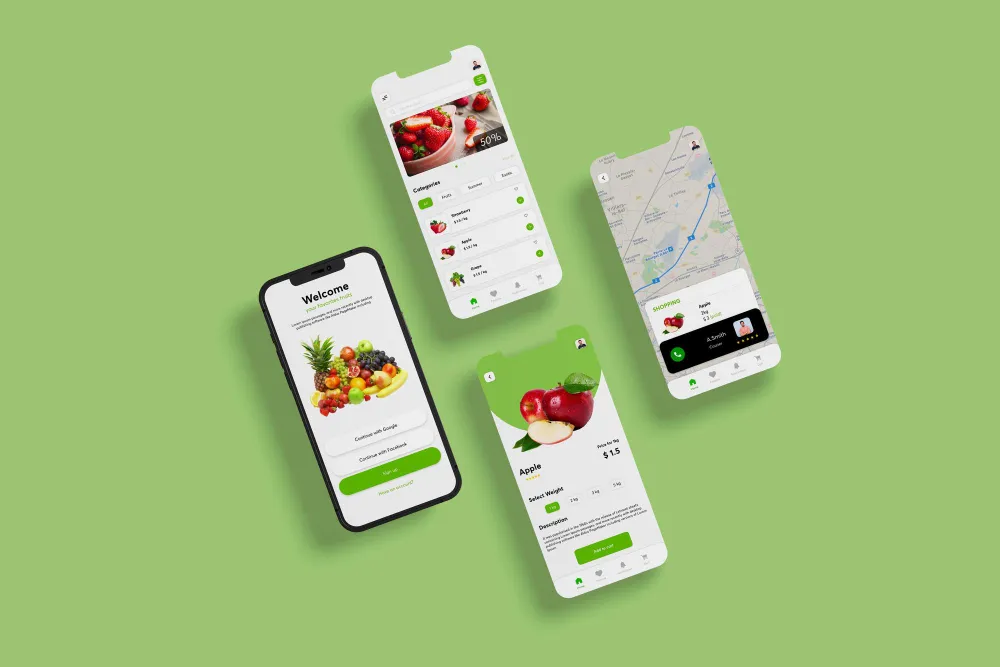 5. Real Time GPS tracking for Food Delivery
The customers must also be provided with a real-time GPS tracking feature so that they are aware of the progress of their food delivery. The main goal of this feature is to provide two-way tracking and operation. It can assist in determining the location of the user so that food can be delivered successfully and users use it to follow the status and movement of the delivery people once the order has been placed.
This adds up to a better customer experience to provide the best food delivery apps experience. Some APIs used for this functionality are MapKit, Google Maps, and Waze's Navigation.
6. Integration with Social Media Applications
This feature allows the users to contribute reviews and photographs of the dishes that they tried on their social media. This helps restaurants gain organic exposure. It is a great approach to get input and provide information for the social media teams to work with. This can increase sales and exposure for a restaurant. Additionally, users also use the integration to share order details with their peers whenever needed.
7. Order History
The order history feature is also present in the apps for food delivery as bookkeeping or perhaps use of these orders later on to place the same orders. The order history generally includes the delivery time, the order details, consumer contact information, and delivery person details.
8. Search Filters
This feature saves the customer's time by providing a highly usable yet easy feature to make their ordering process simpler which is essential for best food delivery apps. Customers make use of a sophisticated search to search out the eateries as per their preferences and needs. The delivery fee varies per restaurant, which means this can also be a search query for the customer. For instance, these search filters can help customers to search for restaurants based on distances, timely deliveries, cost, menu choices, and so much more. These encourage customers to place orders effortlessly as per their needs.
9. Customer Profile Registration and Customization
The user's profile is essentially an information database. Past orders, order analytics settings, shipping addresses, saved outlets, payment choices, and more must all be included. As a result, the customer's favorite element of the profile is the ease with which this information can be accessed. This can be used to identify the customers as well.
10. Messaging to and from within the App
Another key feature is the option to message within the application without the need to move out of the interface. In-app alerts are notifications that display on a user's screen while the app is active. As a result, it might appear in the shape of pop-ups or colorful interstitials, but they're all designed to offer targeted or context-sensitive information. As a result, a messenger is a must-have function in an online food delivery app for engaging with clients and clarifying details with administration.
11. Order Status Updates
The application can notify the courier about the order's specifications. As a result, they may travel to the restaurants and pick up the order and deliver it to the receiver during this time. The restaurant can modify the status of the order at any moment. As a result, once the delivery person changes the delivery status, the app automatically notifies the customer of the change in the order status. This is a great feature for restaurants and delivery persons as well since they remain informed alongside the customers.
12. Reviews and Ratings
This feature for posting reviews and ratings allows the customers to score and review other restaurants on the app based on the food they have posted. Every eatery values its customers since they are the company's lifeblood. As a result, any type of feedback or rating is extremely valuable to a company's awareness of the shortcomings of its delivery. This is a tried-and-true approach for businesses to discover how their apps are received by consumers. As a result, if an app has a high rating, many users will likely opt to visit it increasing business sales.

13. Provide Assistance with Virtual Technologies
Virtual assistants have been created as a result of the development of AI technology. Customers can order their preferred products via messengers or a single word. Customers can reorder any previous orders through the app by connecting Alexa, Amazon's digital assistant, using GrubHub as an example. In line with this, the virtual assistant also offers an approximate delivery timeline for the order.
14. A Smooth Learning Curve for Users
The main goal of every food delivery service is to be profitable and expand. As a result, one of the crucial tools for generating in-app sales is the shopping cart. A customer's online shopping cart is a function on the website where items can be ordered. Because it is quick and simple, the majority of customers decide to place their orders online. The user interface (UI) of on-demand food delivery apps must be expertly designed. Users should be able to efficiently explore and find what they need. Accordingly, the user experience will suffer if the UI takes too long to load or the applications lack metaphors. All of the components must be loaded quickly and icons such as a "+" for add or an "X" for close must be present to make the app usable.
15. Personal Favorites for customers
Customers may now select their preferred restaurants and menu items. As a result, the idea behind a favorites mark is to make it simpler for customers to identify their favorite dishes from this feature and make placing a reorder simple and quick.
These are some of the key features that must be present in all food delivery apps whether they are multi vendor food delivery applications or online food delivery apps. To make such sophisticated applications is not that easy, it requires development experience, user interface designers, database managers, API experts and so much more. These can only be found in a dedicated food delivery app development company. Therefore, if you are looking to create your restaurant application it is a must that you have an experienced company to help you in this journey. Companies such as Trango Tech are aware of the development cycles of food delivery apps in the USA and can develop one for any business as per their requirements.
Benefits of Food Delivery Apps
The features of food delivery apps in the USA are such that they provide immense benefits to their users. An example is since 2014, digital ordering and delivery have grown by 300% when compared to dine-in traffic. This growth has been enabled by immense benefits which provide value to customers, businesses, and food delivery persons.
Ordering food is simple
A mobile app is quick, simple, and comfortable to use. Unlike when ordering over the phone, there are no misunderstandings or difficulties. In a word, your clients select the app to place their food orders since it is convenient for them.
Gaining new consumers
Online ordering via online food delivery apps can help restaurants reach people who are not regular customers or locals of the area. You may increase sales with new and returning consumers by improving your brand's online visibility in the market.
Enhanced convenience to purchase online
Customers may use their mobile phones, tablets, or other portable devices to place orders at any time and from any location by downloading an app. Food delivery apps allow the consumer to make an order without having to converse on the phone which is easier and more convenient.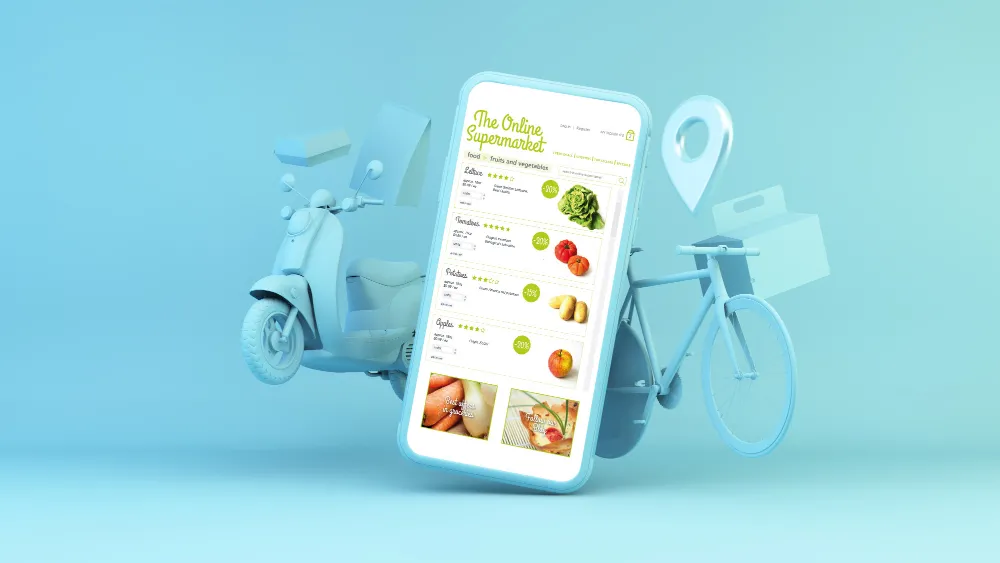 Expanded business opportunities
Customers may request their food from your restaurant but prefer to eat it in the privacy of their own homes. Whether it's due to continuous constraints, inclement weather, or simply a desire to stay at home, offering delivery allows you to reach a broader spectrum of clients. As a result, business opportunities increase.
Maintain a competitive advantage
Surprisingly, just a tiny fraction of restaurants and takeaways offer a food delivery app. Developing food delivery apps for your eateries makes your services available to customers at the touch of a screen. This allows your restaurant to be put ahead of the competition right away.
Expanded reach
Your restaurant may only seat 100 people at a time or less, but with food delivery apps, you may reach thousands of people. You only need an integrated ordering system to get started! You can get one developed from Trango Tech to begin your omnichannel journey.
Improved customer data
Who are your usual clients? What are the most popular foods? Are they aware of your specials and promotions? These and many other similar questions may be answered with the help of analytics from your app. You can keep your clients coming back with tailored offers once you know what they enjoy.
These are the core reasons why these food delivery apps grew at huge levels. This is all thanks to the digital transformation brought by software. You can also capitalize on this by having your own apps for food delivery and increasing sales and revenue for your restaurant.
Benefits of Using Food Delivery Apps for Customers
There are also extra perks for restaurants with food delivery apps, which will benefit your customers as well. Here are some of the most widely quoted examples:
There will be no more waiting in huge lines to place an order.

Pricing transparency has improved.

There are several methods to pay for the order.
Overall, providing your consumers with an app that allows them to order food fast and effortlessly can benefit your restaurant/eatery. When it comes to good customer service, the food business is no different than any other. Provide your consumers with convenience, speed, effectiveness, reliability, and value, and you will surely have pleased customers wanting more.
What are the Best Food Delivery Apps in the USA?
There are many top food delivery apps in the USA. Let us go over these applications. Most of these applications use all the features mentioned above, but their features for users vary. 
1. Grubhub       
GrubHub is one of the best platforms for food order pickup and delivery. It also provides corporate programs for food delivery apps used by businesses. It has almost 20 million active users and 115,000 restaurant partners. Google Play has over 10 million active installations for this app. The announcement of the merger between GrubHub and Seamless Food Delivery App was disclosed in 2013. Users can avail their services in over 3000 cities across the United States and in London. Grubhub earned $1.8 billion in sales in 2020, a 39 percent increase year on year. According to businessofapps, Grubhub had 31.4 million active users in 2020 who used the app at least once a month.
Features of Grubhub app:    
Customer App.
Restaurant App.
Driver App.
Live order tracking.
Search/filter.
The cost of developing a food ordering application, such as GrubHub, will range from USD 10,000 and USD 40,000, depending on the features and expertise incorporated in the application. There are roughly 7 million Grubhub iOS store users and approximately 10 million+ Play Store users.
2. Seamless
Seamless has evolved into an all-encompassing food delivery center with an app and more. It began as a food ordering website in 1999 and today it is one of the most widely used food ordering applications in the United States. Seamless, a leading food delivery service has its headquarters in New York City, USA. It now offers food delivery and takeaway in over 600 cities.
Seamless and Grubhub announced a merger in 2013, with Seamless controlling 58% and Grubhub holding 42% of the shares. Seamless now has 1 million+ users on Google Play and 700,000+ users on the Apple App Store. Because of the Covid-19 epidemic, the brand has taken the required delivery safeguards.
Features of the App
Customer App
Restaurant App
Driver App
Easy navigation
Pre-order and reorder food
Push notifications
Reviews and ratings
So, if you're looking for a similar food delivery app and want to create a seamless-like food delivery app, the cost will range from USD 10,000 and USD 55,000, based on the top food delivery app features.
3. Postmates
Postmates initially began as an on-demand delivery network and a logistics platform. But today, it is also a mobile app. Its business approach is similar to those of its competitors, but it prides itself on prompt deliveries, which consumers like. Postmates, an American food delivery app firm, operates in over 4000 locations across the United States. On July 6, 2020, it was announced that Uber will purchase Postmates for USD 2.65 billion. Postmates is accessible in all 50 states in the United States of America. Postmates now has over 10 million users on Google Play and 5 million users on Apple's iOS store. So, similar applications such as Uber Eats or Postmates. The food delivery app development cost will range between $10,000 and $55,000 USD.
Features of the Postmates app:
Customer App.
Restaurant App.
Driver App.
Open 24/7.
Location tracking.
Special featured store.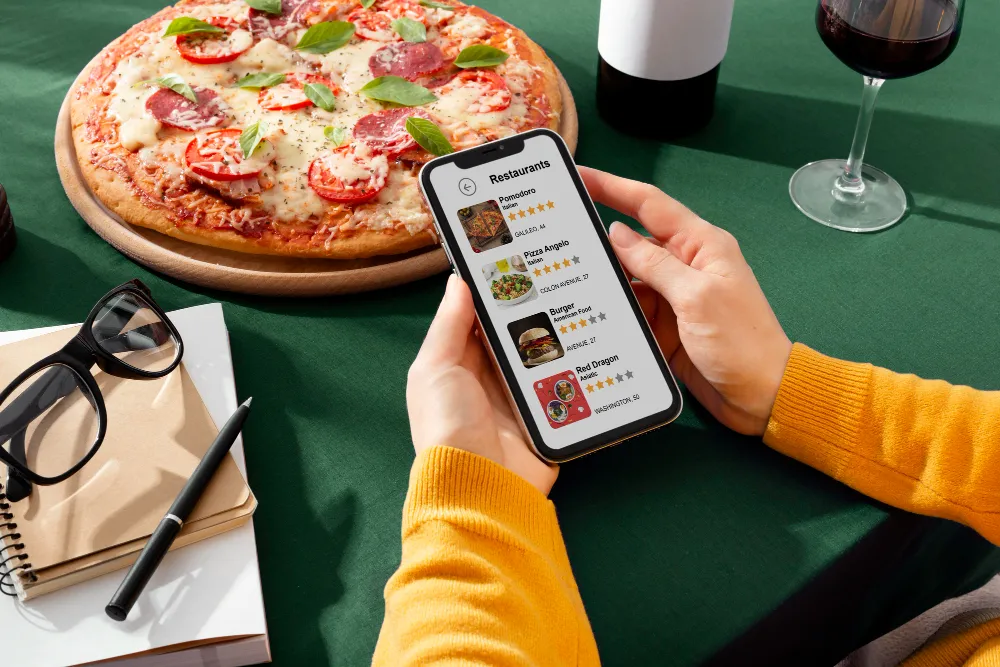 4. Uber Eats
Uber Eats is a popular food ordering app in the United States, similar to how Uber is known in the transportation industry. It provides complete menus from local food shops and restaurants and allows consumers to have the food delivered straight to their door. It is one of the most widely used food delivery applications in the United States. Uber Eats, like the on-demand taxi booking app, is an American food ordering app.
It provides complete menus from local food shops and restaurants and allows consumers to have the food delivered straight to their door. It is one of the top online food ordering systems in the United States. Uber Eats is currently present in over 6,000 cities and 24+ countries around the world as of 2022.
UberEats Food Delivery Software App Features 
Customer App.
Driver App.
Provider/Restaurant App.
Deals and promotions.
Scheduled orders.
Interactive user interface.
By 2020, Uber Eats will have 50 million or more iOS users and 100 million or more Google Play users. The cost of developing an app like UberEats is between $10,000 and $40,000 USD, depending on features and skill.
5. DoorDash
DoorDash is an American on-demand food delivery business that primarily connects restaurants and food delivery. It is a delivery powerhouse powered by the local community. In the year 2013, the firm began operations. In terms of market share and valuation, DoorDash surpassed Uber Eats in the first quarter of 2019. It is one of the most prominent food delivery app firms, with a market capitalization of USD 16 billion.
The company offers its most profitable food delivery service in over 800 cities across the United States. During the Covid-19 outbreak, DoorDash pioneered 'contactless' delivery to ensure the safety of both its drivers and clients.
The app includes the following features:
Customer App.
Restaurant App.
Driver App.
Activity dashboard.
Customer database.
Customizable reports.
DoorDash now has over 10 million users on the Google Play store and 8.9 million users on the Apple store. The app development cost of creating a full-fledged DoorDash-like personalized food delivery system will range from $10,000 to $50,000, depending on the features, aspects, and AI technologies used.
6. Delivery.com
Delivery.com has created a large network and marketplace with delivery options for restaurants, laundry, groceries, and liquor. Many workplaces use Delivery.com to purchase food, making it a good option for businesses that can manage frequent catering-sized orders. Delivery.com offers restaurants flexible pricing. The normal commission for each order is roughly 15%. Furthermore, their website says that the business charges no delivery costs to restaurants.
Delivery.com has features that provide several advantages, including:
A massive user base of over 3 million people.
Catering and other business-to-business food delivery to workplaces.
A statewide network of restaurant partners and drivers.
Point options.
Digital marketing.
7. Caviar
Caviar is a DoorDash partner that promises "the greatest local food" from the "coolest locations." It is a top food delivery app in the USA. The benefits of Caviar are such that restaurants may stand out in the crowded DoorDash marketplace with elevated and distinctive branding if they are on Caviar. It is excellent for restaurants with one or more locations in major cities. Since Caviar is a DoorDash partner, it provides access to DoorDash's trustworthy delivery driver network. Restaurants who wish to work with Caviar must also work with DoorDash, and the fee is the same. DoorDash takes a 15%-30% commission on deliveries and a 6% commission on pickup orders handled through its apps.
8. Toast Takeout
Toast TakeOut is a mobile ordering platform that enables restaurateurs to control their earnings and guest relationships by allowing clients to quickly order pickup or delivery straight from the restaurant without paying a fee. It's a game changer in the market for delivery apps. It provides a comprehensive set of delivery options designed by restaurant professionals for restaurant professionals.
Toast takeout has the following features and benefits:
Integrates smoothly with your restaurant's Toast point of sale systems.
Removes the need for your personnel to manage orders over the phone or through a separate app.
Access to thousands of prospective new visitors.
Quick reordering for repeat customers.
Throttling is used to manage online orders during busy hours, keeping the kitchen from becoming overburdened. Uses the Toast TakeOut app to communicate directly with consumers.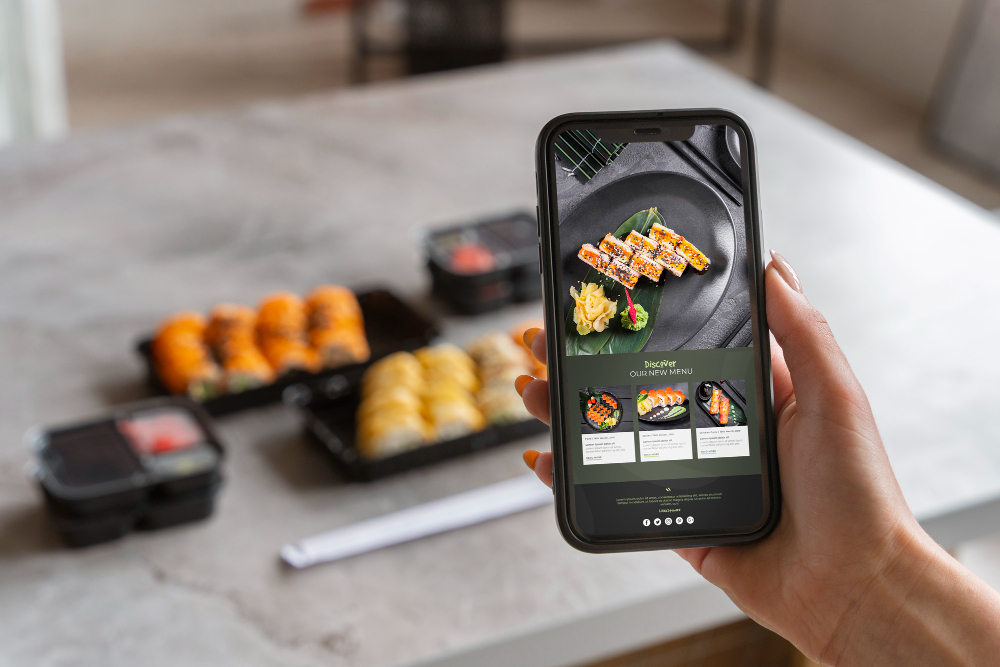 9. ChowNow
ChowNow provides restaurant operators with a one-of-a-kind set of delivery options. Their Direct and Marketplace offerings are ideal for eateries that serve the local community.
Its pros include:
Connects eateries to a delivery driver network.
With branded applications and websites, there is no interruption between your brand and the customer.
Has a variety of marketing tools to assist you in spreading brand recognition.
Integrates with the POS systems in your restaurant.
10. Waitr
Waitr is growing and rebranding into ASAP goods, which now include Delivery Dudes and Bite Squad, both of which operate in cities throughout select Southern and Midwestern states.
Benefits of using Waitr: 
All Powered by ASAP goods are supported by a dependable network of delivery drivers.
Full-service delivery options for eateries that wish to be hands-off.
Growing brand awareness in certain cities, as well as a big marketplace of high-quality restaurants.
The top 5 food delivery apps USA are the ones that hold the majority of the market share. Their success can be owed to the fact that these food delivery apps were the most usable ones for customers. You should have apps for food delivery developed for your restaurant or eatery to catch up on the trend and increase your sales.
Where to Find The Best Food Delivery App Development Services?
The benefits of a food delivery application are many such as increased sales and higher exposure. These applications are a major factor in the growth of online ordering. Restaurant businesses understand that having food delivery apps is not an option, rather it is now necessary. To develop reliable, usable, high-performing, safe, and secure applications, businesses must hire food delivery app development services to develop high-performing food delivery apps. Only the best and certified experts are hired for this critical task hence it is wise to hire experienced companies. You can head over to Trango Tech and get a free quote for your very own food delivery app.

Wrapping Up
Almost once a week, 60% of Americans buy delivery or takeout food using their food delivery apps. As the demand for online food delivery apps increases, it is best that restaurants, eateries, and food-related businesses also ensure that they have their apps for food delivery. We understand how these apps helped restaurants increase their sales and exposure.  The convenience of food delivery apps ensures that their demand will only grow. Therefore, if you are a food-related business, it is best to hire an app development company and begin your application development for food delivery.