Dropshipping is a lucrative online business model that eliminates your need for internal inventory and warehousing. It has the potential to create significant returns quickly and with little startup capital. This article discusses how to start a dropshipping business, including what to expect and steps to take.
What is Dropshipping?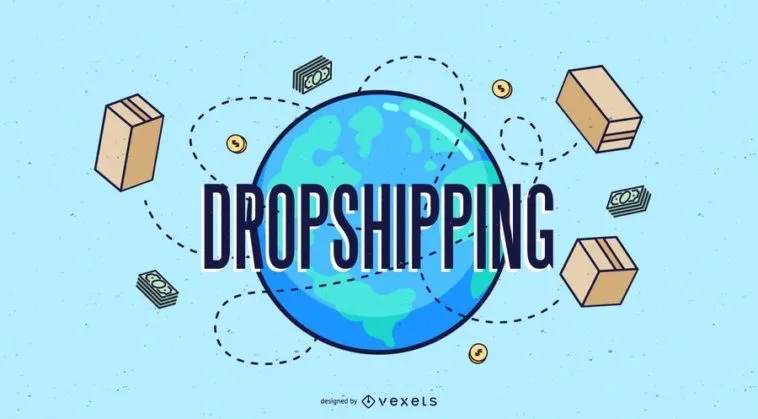 Traditionally, to maintain a store, you need a place to sell and stock your products so that you are always prepared to fulfill a customer's order. This situation is where business concepts like Minimum Order Quantity (MOQ), Inventory Management and an efficient procurement process play a vital role. Your livelihood depends on ensuring customers never leave the shop empty-handed. However, starting a dropshipping store completely bypasses these ideas. It proposes that retailers shift operations online and hand over all shipping responsibilities to the supplier.
In dropshipping, you (the merchant) purchase products from a third-party supplier when customers place orders at your online store. The supplier then dispatches the goods directly to the customer's shipping address. You process any payments through your eCommerce portal and make a transfer to the supplier as needed.
Therefore, dropshipping makes managing your store a primarily hands-off process regarding shipping and order fulfillment, Thereby letting you concentrate on other parts of your business. You can spend a significant portion of your time on brand building, marketing and advertising. Furthermore, dropshipping is an excellent choice for startups since it does not require as much operational capital as conventional retailing. You save on employee wages, electricity and overheads since your supplier already has the warehouse space and systems.
How does the dropshipping business model work?
Step One – Supplier Agreements
First, you find a manufacturer or distributor that provides the product you want to sell, sign an agreement (discussed later) and add their goods to your online store.
Step Two – Order Placement
A potential customer places an order via your online shop and pays the retail price.
Step Three – Order Forwarding
When you give the customer order confirmation, you forward it to the relevant dropshipper/supplier and pay the wholesale price. Some eCommerce platforms take care of this process automatically.
Step Four – Order Preparation
Then your dropshipping supplier receives the order details and readies the products. The dropshipper also handles other pre-shipping duties like quality checks and packaging.
Step Five – Order Fulfillment
Your dropshipping supplier dispatches the order directly to your customer.
Step 6 – Order Receipt
Your customer receives the product.
Is dropshipping really profitable?
There exist several techniques for growing and starting a dropshipping business. Some merchants have started dropshipping businesses as a side hustle, while others have grown into multiple six-figure stores. Furthermore, online shopping continues to grow in scale and value while reducing the need for high upfront investment, opening up more capital for other purposes.
In either case, whether dropshipping can be profitable to you or not depends on your motivation for starting one, the time you invest and making the right choice of product. Continue reading for tips on how to start an online dropshipping business with an ideal combination of suppliers, goods and eCommerce platforms.
How much money does a dropshipper make?
On average, retailing via dropshipping can get you anywhere between 20% to 30% on cost. However, profitability is significantly affected by the products you're selling. Low-margin, necessity goods will earn more in the volume of sales than high-margin, luxury goods.
Is it difficult to start a dropshipping business?
Understanding that it may seem daunting to start a dropshipping business, but it is one of today's most straightforward business models. Many online blogs, videos, and forums discuss this and various online courses. However, the following section outlines the (widely accepted) steps in developing a dropshipping online store to make things easier for our readers.
Decide on your dropshipping business idea
First, and arguably the most important, you must pick an industry, product line, brand or theme for your store. As a beginner, try starting with a single product or product category—for example, mobile phone covers made by a single manufacturer or only earphones but from several different brands. Also, don't be afraid to explore smaller product categories and niches. Even though niches have fewer potential customers than mainstream ones, there are fewer competitors, and the margins are usually higher (especially in luxury goods).
Since standard/popular product categories often come with heavy and ruthless competition, getting into this arena as a newbie is risky. Go for it if you can arrange a solid supplier and have excellent marketing skills. Either way, find a new perspective or unique angle on the product or promotional tactics. Consider new markets, features, and ways to use the products.
Research your competition
Once you've figured out what you want to sell, you should find out how everybody else is selling it. Established and successful competitors are a treasure trove of information about how your chosen niche works and what is profitable.
To determine whom you're competing against, start by conducting a Google search and build a list of the top five. Review their product descriptions, keywords, and marketing/promotional campaigns on social media for clues on what to do. Tools like similarweb can help you investigate your competitor's activities online, including social media profiles, website traffic sources, number of visitors and more.
Register your business
As you grow, your business name will become the most important asset you own. So choose carefully and make sure it is available in your state through a corporate name search. You can also search trademarks to determine if the business name is available across the USA. In most cases, your business exists primarily online, so you need to find common ground between available company names and domains.
Next, decide what level of business you want to operate. Starting as a Sole Proprietor or Partnership is generally a good idea. Although you would be entirely responsible for any liabilities the company incurs, there are fewer regulatory formalities. However, all business profits are subject to federal income tax and self-employment (Social Security and Medicare) taxes.
On the other hand, you can consider registering a Limited Liability Company (LLC). The only difference compared to a sole proprietor or partnership is a separation between the owners and the business entity. This separation means you or your partners cannot be held liable for any debts the business owes. There are, of course, various other choices, such as a Corporation, which offers the most liability protection. Or an LLC may opt for S Corporation tax treatment wherein the business owner pays taxes on any salaries received from the company and not on profits.
Regarding paperwork, you do not require any formation documentation when operating as a sole proprietor or partnership. Still, you may need to fill out the Fictitious Name Registration or DBA. This document becomes necessary if the business name is anything other than the first and last name of the owner(s). An Articles of Organization is required if forming an LLC or Articles of Incorporation if forming a corporation. On the other hand, if you opt for S Corporation tax treatment, you need a complete IRS Form 2553. Although, in most US states, all you really need to get started is a local state or city business license.
Finally, remember to get yourself an Employer Identification Number (EIN). The  Internal Revenue Service (IRS) allocates an EIN unique to your business. You use this EIN to file taxes, open company bank accounts and more.
Research and connect with dropshipping suppliers
You've already been through the first step of identifying the product you want to sell. Based on this information, search for manufacturers and suppliers that offer your desired product at the required quality. In today's business environment, you can either directly communicate with a manufacturer or importer or connect with eCommerce marketplaces like Alibaba and Oberlo. The former allows for more significant profit margins but usually has large MOQs that new businesses cannot handle. On the other hand, the latter brings together many suppliers under one roof that purchase from the manufacturer and 'break-bulk', thereby allowing smaller MOQs. However, the most meaningful advantage lies in their systems. Online marketplaces like Alibaba enable direct integration with your eCommerce store, meaning you don't have to upload the products manually.
Furthermore, a critical step at this stage is to sign a dropshipping or reseller agreement. This document is a contract between you, and the manufacturer/distributor whose products you intend to sell that ensures all transactions stay transparent and above board. This legally binding document allows sellers to resell products their manufacturers/suppliers provide. It also defines the fundamental conditions for both the seller and supplier in this relationship, including their corresponding rights and obligations.
However, you don't always need a legal contract if you're a fresh entrant into this business model. As a small company, you won't be able to generate enough flow for a contract to impact you or your supplier. Still, most eCommerce platforms today require that you upload one before allowing you to sell. Ideally, talk to a professional when drawing up these dropshipping agreements.
Setup your eCommerce store
Next, you should set up your online store to start a dropshipping business. You have the option of building a website and eCommerce portal from scratch or directly building your store on platforms like Shopify, WooCommerce and BigCommerce. These eCommerce sites streamline online store development, including finding a domain name. They also expedite operations by offering comprehensive eCommerce tools for managing products and processing payments. And last but not least, as mentioned earlier, these platforms come with built-in integration options for most dropshipping marketplaces like Alibaba and Oberlo.
However, although some eCommerce platforms are designed for business owners to build and operate, exploiting their true potential is best left to the experts. Consider hiring a qualified eCommerce development company or a certified development consultant to reduce your workload.
Marketing and promoting your dropshipping store
Now that you know how to start a dropshipping business, you need to plan your marketing campaign. This plan isn't so much a campaign as it is a plan for promoting your business efficiently and effectively. Consider the following platforms and tools for promoting your online store:
     

Google and Social Media Marketing: The average cost for advertising on social media platforms is roughly the same. However, platforms like Facebook and Google allow scaling so you can start small and grow over time. Furthermore, Google Analytics can help you keep track of popular search keywords that drive the most traffic;

     

SMS and Chat app marketing: Messaging through chat apps and SMS is one of the most direct ways of reaching your target audience. You can set up Whatsapp broadcast lists, group chats, or even VIP text clubs that inform potential customers about new products, exclusive deals and promotions;

     

Engaging an influencer: Influencer marketing is affordable yet productive for reaching your target audience quickly. These influencers tend to have a diverse fan base that trusts them far more than they would traditional advertising. In this case, the influencer gets their share, and you generate sales;

     

Online communities and forums: Become a part/member of discussion groups and other gatherings of people passionate about your niche. However, remember that you want to build a relationship with these people and slowly introduce them to your product. Although this method takes time, it requires no financial input;

     

Content and copywriting: Start a blog concerning your dropshipping niche or join one as a contributor. Online content like that will help guide traffic to your store for a long time after posting. Creating videos and infographics is a good way of getting the word out while entertaining or educating potential customers.
Make sure you actively monitor whichever channel you choose to find out what works and what doesn't quickly. Especially when investing in paid advertisements, you need to know if you spent your dollars well.
Test, analyse and improve your store's offerings
Although this is the last step in starting your dropshipping business, it's a recurring one. Keep an eye on sales and customer behaviour data as you continue selling and growing to figure out your best-performing channels, products and customers (demographics).
The idea is that you want to make as many data-driven decisions as you can. You can use tools like Google Analytics and Search Console to monitor traffic and improve your website/store/content Search Engine Optimisation (SEO) efforts. Remain consistent with the results and keep making wise decisions.
Overall, the most crucial part of a successful online ecommerce store is to test and optimise to increase the revenue you generate online. This process ensures that your website stays relevant and ahead of the competition.
Hopefully, now that you've read so far, you should clearly understand how to start a dropshipping business and stay one step ahead of the competition while you're at it. Now all that remains to say is good luck!